I'm busy getting some new pieces finished for next weekend's Renegade L.A. held in L.A. State Historic Park.
I work very slowly, so it can take me a year (or longer) before I actually turn a drawing into a piece of jewelry. Often, I'm uncertain if anyone will like what I'm thinking about, but then I'll start to notice the culture swinging in the direction of an idea I'm having. So, I bring it to life.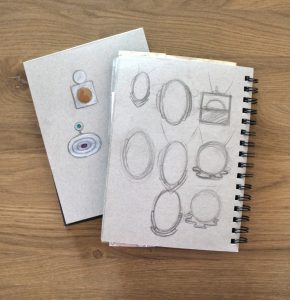 That is the case with the Sunset Beach pendant. It is made of a heavy gauge (18?) sterling silver sheet with a copper moon that will patina with time. It is sleek and modern. It seems to look equally good on a 30″ chain or a 16″, but it depends on you, your bust and your clothing choice.
Growing up in southern California, skate culture and surf culture was inherent, and the companies that clothed many of us in that era were OP, Hang Ten, Lightning Bolt and Sex Wax. A highlight as an illustrator, straight out of Otis Parson's in the 1990's, was to work on a poster for OP. For me, those company's graphics and design ideas represented a permission to create what was actually resonating with my generation, and not just settle for what was being pushed onto us. No doubt that is why so many of the same people were drawn to the punk scene, as well, which initially was about creating for ourselves that we wanted to see and hear in the world, whether or not we really knew how. We learned.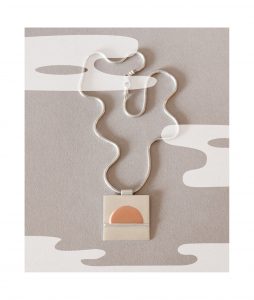 I don't know if its healthy to retread the past endlessly, but this is my homage to my preteens. I  have some earrings that are in a similar vein. I'll add a photo to this post soon. By the way, Sunset Beach is the name of a spot somewhere between Seal Beach and Huntington, but not as crowded (then) which is where I preferred to go. As I got older, and further into British bands I stopped going to the beach! I wanted it to rain all the time and wear the huge sweaters and coats from the Bellflower thrift stores and hang out, gloomily drawing in my room. No doubt, my decision to stay out of the sun at 16 was what kept my skin healthy, so, thank you Paul Weller.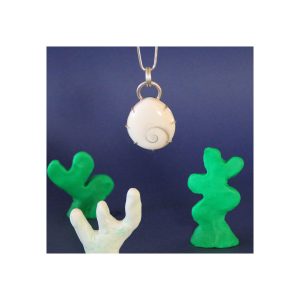 I have trouble pricing my pieces because I can spend days in fabricating them. Others drag on for weeks, due to tricky soldering issues that have to be overcome. The Shiva Shell pendant was set aside many times as the prongs melted over and over. But at last, it is done. I kind of can't believe it. If no one wants it at the show, I'm definitely keeping it. Even though it caused me so much grief, I was in love with the swirls of pink and green found on the back of the shell. I have two more shell cabochons, one slightly smaller pear-cut, and the other is oval. I will be creating settings for them "soon" – meaning, as fast as I am able without compromising quality.
Lastly, I grew up obsessed with the work of Art Clokey, the creator of "Gumby". I was in the art supply store about a month ago and picked up Sculpey. Of course, I had to have Gumby green. I created the sea-inspired shapes with it. I haven't baked them yet because I liked that I could continue to change their shapes maybe for years. However, if I bake them, then I can paint them…Although it is a slow process making my photos, its one of the things I really enjoy because through it, I express my point of view about everything. To me, everything must be fun, otherwise, it is just work. Like Art Clokey's "Gumby", I want to invite you into a world.
Hope to meet you at Renegade. You can also shop my work at www.etsy.com/shop/raydesignbynichols
Please follow and like us: