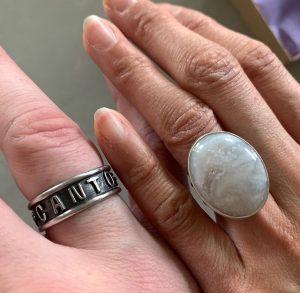 Good friends of mine recently and suddenly lost their wonderful friend and family member, a cool Samoyed dog. They reached out to ask for something they could wear to remember him.
I knew I didn't want to do anything corny that they (and I) would cringe over in a year, after the first wave of sadness had transformed into something more bearable. I thought about this project for several months. I researched mourning jewelry from the 18th and 19th centuries. My skill set can be limited in jewelry and my ideas always exceed my capabilities. I ran into many walls on this project. I filled sketch book pages for months and cast out most of my initial ideas. Finally, I landed on a sleek minimalist locket and an updated men's mourning ring. I didn't know how to do either.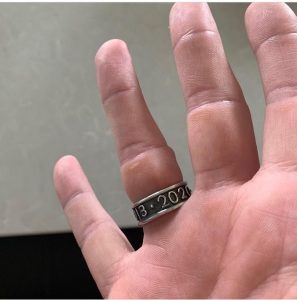 My first attempt at the men's ring ended with me melting the silver on one side! This is when I wished I could hit command+z on a keyboard…I started over and had no idea really how to do the letters and dates. I decided to make them out of hand formed wire and soldered each one onto the band. I thought about the men I know and what they would most likely wear, if anything, besides their wedding rings. I wanted subtlety and discretion.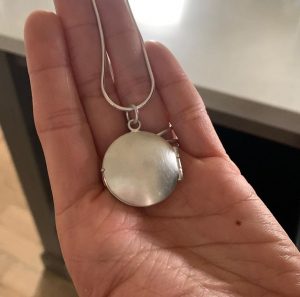 For the locket, I followed a tutorial from a book by Allan Revere. I still cant believe I made it through the whole project without messing it up completely. Lastly, I have a somewhat large collection of gemstones and I found one I had forgot about that was quartz and chalcedony – it looked like the fluffy white fur of their beloved Canto. I created a simple setting and carved a "C" in the back.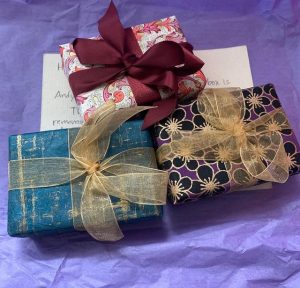 My favorite part of sending out an order is wrapping it, for some reason. It feels like closure and the final touch. I use art paper from the art supply store because its beautiful and can be reused for collages or crafts. I like to think about what would make me happiest to receive in the mail and I do that.
Objects can never replace people or animals we love and death is a perfect teacher of this truth. I knew my attempt to help them feel better was dwarfed in comparison to the new void in their life but I was willing to try to create something embedded with meaning and moral support. This was one of my favorite challenges ever with jewelry.