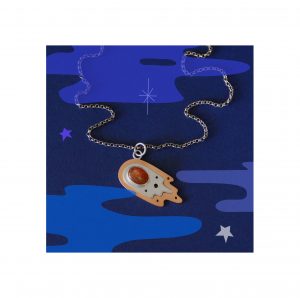 I have been gradually working on new designs since the shelter in place order came about, here in Los Angeles. One of them is the Comet pendant, which is made of sterling silver and copper. It features a sunstone cabochon that's been bezel-set. The tail of the comet has black spinel, brilliant-cut, accent stones, that are flush-set. I am fascinated by outer space and the idea of travel and discovery. I became a Star Trek fan in my teens when the first series used to air in the hours after I returned from school. I always wonder if another planet like ours exists somewhere, and if they have new foods, cool design, amazing music and books. Alas, thats where my mind goes. I get very excited when I see a shooting star and once, on a trip to Costa Rica I saw the Milky Way. Living, as I do, in a big city, I have never seen it, due to light pollution. It was a memorable moment for me that I like to meditate on.
I've included in this post two older designs because they still resonate for me.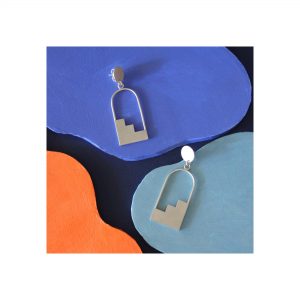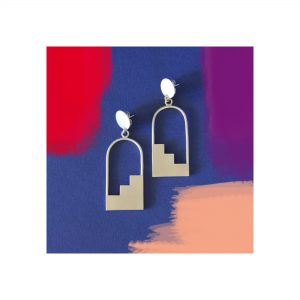 One is the "Next Level" earrings, hand-crafted from sterling silver sheet and wire. They depict a flight of stairs within an archway.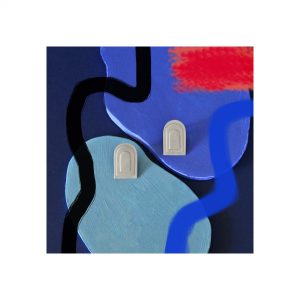 The other design I still wear is the "One Point Perspective" studs, shown here in sterling silver. They are a nod to drawing and architecture. They are available in brass but eventually I can offer them again in gold plated brass. At the moment, the jewelry district in downtown L.A. is shut down, so that service is unavailable to me.
Normally, I would have no trouble sitting down and losing myself in my work any chance I got. This situation has stopped me in my tracks for a few months. I have found it hard to concentrate on anything and the only thing that felt right was sitting still. In moments of stress, I have been focusing instead on this question: Is the present moment I'm in bearable? I wish you all strong health on every level and the ability to find the good in the moment you are in.