The rush is on to get gifts in time for the holidays. I heard over the past year from customers that they would like me to offer some smaller sized rings. So, I finally got around to making and listing them. More are in progress but I thought I should share these with you, in case you were looking for something smaller than a 7.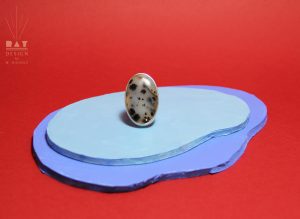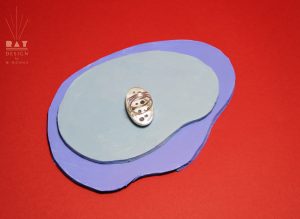 First we have the "Jill" ring in US size 6. It  features a dendritic agate and is set in recycled sterling silver. When I source stones, I always choose them based on some kind of synaptic connection that jars in me. This stone made me think of polka dots and what that motif has meant to me over the years. For some reason, I associate it with certain artists and musicians that I love and have always viewed it as code for something cool and underground.
I went further into it by adding polka dots to the back, as well. Its a rather large stone so I made a triple wire band to give stability so it won't slide to one side when worn, as often happens with big rings. The name "Jill" is a nod to artist and musician, Jill Bryson who is known for forming the duo, Strawberry Switchblade. I had many of their records as a teen.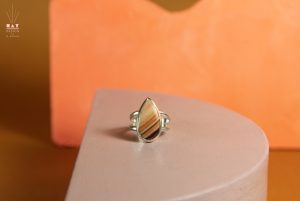 Next is the Graphis Ring, named for a magazine that folded long ago, which focused on graphic design. Its US size 5.  The stone reminded me of the surf culture and graphics of southern CA in the 1970's. I love it and am sad it doesn't fit me, but I often purposely make things in sizes I cant wear so I wont be tempted to keep them. The stone is Dolomite Wavestone, by the way. I have two other equally amazing stones of the same material.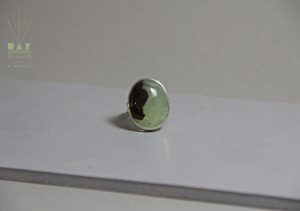 Then there is the Helen Ring, US size 6.5. It features Bio-Prehnite which is a translucent green stone with burnt umber inclusions that look like a painting, to me. Named for painter, Helen Frankenthaler, whose "pour" paintings look like this stone. I have more of these stones cut in various shapes and will be adding them to the shop soon.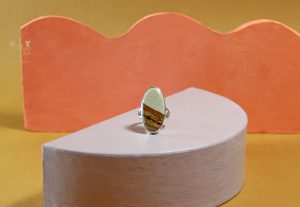 Last up is the Mars Rover ring in US size 6.25. It features a Landscape Jasper, bracketed by rose-cut, Citrine accent stones. Its set in recycled sterling silver. This stone looked to me like the photos that come back from the Mars Rover. I am a space exploration enthusiast and can get lost in the Nasa instagram account. I'm always hoping we will find a new planet with all new foods, music and art. Single-minded focus.
Reach out if there is a rings size you want. I have a lot of unset stones.
Please follow and like us: